---

We love to meet and do anything we can think of in sight of, near to, or on the water! Owning a boat is not a requirement. Everyone who loves the water and our beautiful Skidaway waterfront is welcomed! 
Attend our next events:
October 15 – (Tuesday)
BBQ & Bingo Bash
The Skidaway Island Boating Club (SIBC) will celebrate its fifth year of fun in the sun with a members-only "BBQ & Bingo Bash!" Thursday, October 15, at 6 p.m. at Skidaway Island State Park. A delicious dinner buffet will be catered by Dickey's Barbecue Pit of Savannah, followed by BINGO! Come for the food and fun, and you might leave with a prize! This is a free, member appreciation event but ALL SIBC members are asked to accept or decline by Oct. 10 via email at siboatingclub@gmail.com so the caterer has an exact headcount. BYOB and dress casual. RSVP yea or nay today!
October 24 (Thursday)
Octoberfest
Enjoy a taste of the Old Country and a chance to help a great cause as Skidaway Island Boating Club (SIBC), Carefree Boat Club, and the Coastal Conservation Association (CCA) host a mouth-watering Oktoberfest October 24 at Landings Harbor Marina.  Members of CCA and both boat clubs are invited to enjoy four kinds of brats, 'kraut, slaw and southern potato salad at the marina picnic grounds. The per person fee is $10 payable online below.  During the event, a raffle will be held with 100 percent of the proceeds benefitting the Savannah Homeless Authority's Tiny House Project for homeless veterans. Raffle prizes include a 90-day Carefree membership, a rod and reel set from CCA and a one-year SIBC membership.
The BYOB event runs from 5 to 7 p.m. The last Oktoberfest event was a lip-smacking success! Be sure to RSVP by the October 19 deadline and bring a folding chair, and a few greenbacks for the raffle. The rain date is Oct. 28. Questions? Email siboatingclub@gmail.com
Select your club membership and click on Pay Now.
50/50 Charity Raffle
We have kicked off our 50/50 raffle to benefit the Tiny House charityRaffles will be held at each SIBC event this year. Tickets are 1 for $1; 6 for $5; or "Lucky" 13 for $10. Exact change is appreciated.
TIME TO RENEW YOUR MEMBERSHIP FOR 2019
The Social committee has put together some new and fun events for this year, like "It's Five O'Clock Somewhere" cocktail party, a sunset cruise and a Sunrise Breakfast. We will be featuring a 50/50 raffle at each event (beginning in February) with proceeds going to a local organization – one we hope you will help us choose from one of the suggested (they will be featured at the event) or one that you may have in mind.
The 2019 Membership dues can be paid by Paypal or credit card (above) or by sending (mail or tube) a $40 check made to "SIBC" to Susie Fusco at 3 Brooks Lane Savannah, GA 31411.
RECENT EVENTS
August 24 : Smooth Sailing at 'Hook' Race
The weather gods were smiling on the 2019 Low Country Hook Ocean Race.  Despite frequent downpours inland, the competitors only encountered favorable wind and water conditions during one of the region's premier sailing events, held August 24 off the Georgia coast.  "It was a really fun race," said Eric Gotwelt of Savannah, GA, who captained the "Dimarian" to a first place finish in the spinnaker division. "The weather cooperated with us."  Starting at Hilton Head, SC under clear blue skies, and finishing at Landings Harbor Marina on Skidaway Island, GA, where storm clouds barely kissed the coastline, the race course took competitors out into the Atlantic, around Tybee Island, through Wassaw Sound, and up the Wilmington River, forming a hook-shape and covering about 30 nautical miles.  The fourth annual event was organized by Skidaway Island Boating Club (SIBC) in partnership with the Yacht Club of Hilton Head (YCHH). Berkshire Hathaway HomeServices, Bay Street Realty Group, was the premier sponsor.
Todd Williams of Savannah and his "Grand Cru" won first place in the non-spinnaker A division. Andrew Zeigler of Savannah placed first in the non-spinnaker B division aboard the "Z Breeze."  SIBC's signature event is a handicapped race to level the field, open to sailboats longer than 22 feet, and is adjudicated by US Sailing race officials.  Matt Seif's "Ruckus," sailing out of Charleston, SC, took "line honors," crossing the finish line with the fastest overall time, handicapping aside, in just under four hours, one of the fastest times in the four-year history of the race, due to the reaching start and slack tide.
While many area boat clubs host annual regattas in inland waterways lasting only an hour or more, the Hook is a long-distance endurance race in open ocean waters which historically was a large part of sailboat racing. It has quickly become one of the region's premier sailing events."  The continuing support and response to our efforts to revitalize one of this region's great sailing traditions has been very encouraging," said SIBC Commodore Paulette Hamilton. "The boating community and the supporting Savannah community have really embraced this event."  Highlights of the race included Savannah's Ed Owen's second place finish aboard the "Peregrine" with an all-female crew, and 15-year-old James Thurlow of Hilton Head, SC, who came in a very close fourth place aboard "Fortitude" in his first ocean race. Thurlow and his teen crew missed placing third by just nine seconds. In addition, the annual sportsmanship award was presented to Doug Powelson for his work with the sailing club at The Landings on Skidaway Island.  A total of 18 boats entered this year's competition, lured by the opportunity to re-live a bit of racing history. In addition to YCHH and Berkshire Hathaway, other Hook race supporters included AB Bernstein and Chatham Parkway Lexus, Distinguished Sponsors; and Sound View Wealth Advisors, CGO Wealth Management Group, J.C. Lewis Ford, Vaden Chevrolet, Craftmasters Construction Co., Sailor's Nautical Services, Hinckley Yacht Services, Cay Insurance Services, and Dr. David Palmer/Optim Orthopedics, Contributing Sponsors. In-kind services provided by Coastal Conservation Association of Georgia, Carefree Boat Club at The Landings, The Landings Association, Harbour Town Yacht Club, and Harbour Town Yacht Basin.
SIBC was formed just five years ago to promote boating and the recreational use of both marinas on the Skidaway Island wat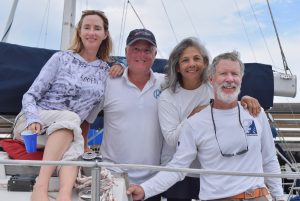 erfront. 
WINNING CRU – Sonja Wallen, Todd Williams, Hannah Burtnik and Brian Burtnik, of Savannah GA celebrate their win aboard the Grand Cru, which placed first in the non-spinnaker A category in the Low Country Hook Ocean Race, held Aug. 24 off the Georgia Coast. The race is one of the few in the region held in open ocean waters.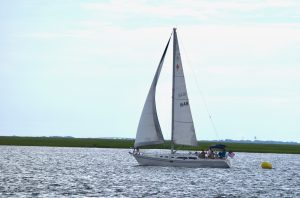 IT'S A BREEZE – Savannah's Andrew Zeigler and crew celebrate as they cross the finish line aboard Z Breeze, taking first place in the non-spinnaker B category in the Low Country Hook Ocean Race held Aug. 24 off the Georgia Coast.
A GOOD SPORT – Doug Powelson of Skidaway Island, GA receives the Marty Vernick Sportsmanship Award for his contributions to the sport of sailing at the Low Country Hook Ocean Race awards dinner held Aug. 24 at Priests Landing Marina at The Landings on Skidaway Island.
BOAT CLUB KICKS OFF 2019

Close to 90 SIBC members started the new year in style with our annual kick-off dinner and new member sign-up, held Jan. 17 in the Plantation Ballroom. The festive and informative kick-off event featured a delicious three-course dinner, an update on planned events, and the transferring of the captain's hat to in-coming commodore Paulette Hamilton.
Members also voted on which charitable organization the club will support through its fundraising efforts. The final tally clearly showed our overwhelming support for The Tiny House Project for Veterans, sponsored by the Chatham-Savannah Authority for the Homeless, which received more than half the votes. Our donations to this sorely needed project off Wheaton Street will help restore dignity to our forgotten veterans. Boat clubs across the country are known for their charitable activities. SIBC is ready to step up, too!
Tall Tales Feb 24
The "Tall Tales" Potluck Dinner, was held at the Skidaway Island State Park's Group Shelter Building. We enjoyed friendship around the fireplace as Lee Carroll, our well travelled skipper, espoused a few tall tales from his voyage from Manila to Hong Kong. There was no charge for this potluck dinner and BYOB event.
Sock Burning Mar 7
The  club held our annual "burning of the socks" event  at Landings Harbor. We brought our old worn out cotton socks to be burned that symbolized the beginning of the boating season where we shed our winter clothes and welcome the coming of spring! This event was BYOB with chili (meat and vegetarian) and cornbread compliments of The Marshes of Skidaway Island. Our guest

speaker was Ms. Cindy Kelley, the Executive Director of the Chatham Savannah Authority For The Homeless.  Members were requested to bring a package of new white cotton socks for donation or a suggested cash contribution of $10 to aid in this worthy cause supporting the Savannah community.
It's 5 O'clock Somewhere" Cocktail Challenge!!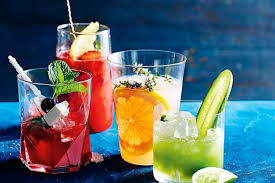 The May 25 '5:00 Somewhere' Cocktail Challenge was a blast. Approximately 50 members and guests showed up for the challenge, enjoying the food, the drinks, a game or two of corn hole and the camaraderie of fellow members. And the weather? We couldn't have asked for a better evening, low humidity, light breeze, clear skies. The array of food was incredible, lots of different dishes and all so yummy. We had quite a few choices in the cocktail challenge,Sangria, Painkillers, Pelicans, SSOS and Mint Julep snow cones to mention a few……our winner was Michael Mays who made the snow cones. His prize? What else but a Parrot Head hat…….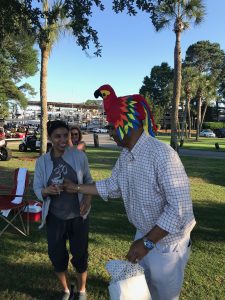 June 21 Sunset Cruise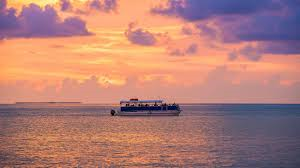 We cruised on Capt. Mike Neal's pontoon 'Island Explorer' on the Summer Solstice, leaving from Landings Harbor marina at 6:30 PM for a two hour cruise. This event was limited to 32 people and was a BYOB with complementary finger foods provided. 
"Tybee Time" Cruise to AJ's Restaurant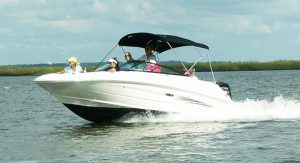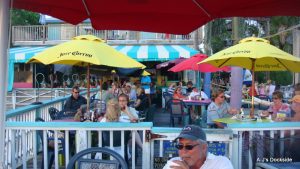 The July SIBC event offering was a summer lunch boat cruise to Tybee Island's AJ's Restaurant on rescheduled to Monday, August 5, 2019, departing from Landings Harbor.  
The boats for this event were provided by Carefree Boat Club at The Landings.   Following a leisurely river view lunch at AJ's, the group will returned to Landings Harbor at approximately 2:30 PM. 
 
    OCTOBER SPOOKTACULAR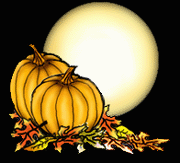 The Skidaway Island Boating Club (SIBC) celebrated the traditional end of the boating season with a "Spooktacular Year-end Bash"  which was held on Thursday, October 18th. The Year-end Bash was a monstrous success, with Spooktacular decorations, devilishly good food, and a frightfully good time enjoyed by all. Ghosts fluttering in the breeze welcomed guests in the entranceway, Barnes Catering served up fantastic food, and the music kept everyone in the mood! Many embraced the spirit of the evening, attending in costume. Judges awarded prizes for some very unique categories, which were won by a biker chick, a Pope, and a 1950s sock-hopper! Three cheers for all of our contestants!
Many thanks to Susie Fusco and her crew for putting this event together. The event marks the traditional end of the boating season, even though boating is enjoyed year-round here on Skidaway.
Keep an eye out for announcements on SIBC social events in future newsletters as you enjoy the upcoming holidays.
OTHER RECENT SIBC EVENTS
On September 11th, the Carefree Boat Club hosted a cruise to A-J's for lunch. Sixteen SIBC members participated; it was a picture perfect day to enjoy the hour long cruise.  A big thank you to the Carefree Boat Club for their generosity!
Also in September, A group of women from the SIBC, known as the Sea Sisters (a faction of the Carefree Boat Club) took a short holiday in St. Augustine, FL. St. Augustine, founded in 1565, is the oldest city in the US. The Sea Sisters took advantage of one of the benefits Carefree Boat Club offers – reciprocity with other Carefree locations. They cruised the intercostal waterway on a 22′ pontoon boat named General Relativity.
—————————————————–
Questions about the club and events?
Not an SIBC member?  Why not JOIN NOW!

 Fill out the APPLICATION and pay your dues on the same page!