---

We love to meet and do anything we can think of in sight of, near to, or on the water! Owning a boat is not a requirement. Everyone who loves the water and our beautiful Skidaway waterfront is welcomed! 
Attend our next event: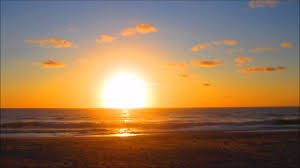 'A Big Easy' Sunrise Breakfast – Wednesday, April 3
Come early to bask in the 7:10 a.m. sunrise at Landings Harbor Marina, then let the good times roll, with  good food and friends on the waterfront.   Enjoy classic shrimp & grits lovingly prepared by May's Food Truck featuring Dubberly's fresh, local catch, butter lettuce spring salad in mandarin vidalia dressing, loaded corn bread,  New Orleans style beignets, Café du Monde style chicory coffee, and tea.  A complimentary blood orange mimosa will be served to toast the sunrise……this event will begin at 7 AM for the 7:10 sunrise. The catered event will cost $10.00/person for  SIBC members  and $18.00/person for non-members. The deadline for signing up is Friday, March 29. Use PayPal below or tube your check to Pam Gerardi, 4 Shagbark Lane.  Please make checks payable to SIBC.
Member Breakfast $10 per person
Non-member Breakfast $18 per person
Ahoy SIBC Members!  Annual cruise to Hilton Head Island 5-7 April 2019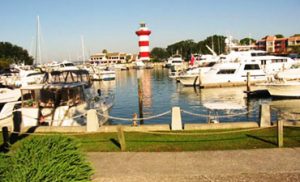 Once again we will be going to Shelter Cove Marina, which is always a lot of fun. At Shelter Cove, there are 8-9 restaurants in the Marina and Palmetto Dunes provides a "Dune Buggy" shuttle to the beach and their Beach Club. Last year, we had over 20 members and 6-7 boats participating.
Here are the details – For first time cruisers, we normally arrive at the Marina on Friday afternoon (April 5th), for those that are not sleeping on their boat, those participants go to their hotel (we are coordinating to have a special rate at the Days Inn Hotel located approximately 2 blocks away, the rate will not exceed $95 a night, and is still being negotiated)  After arrival Friday evening, we will meet for libation and snacks in front of the Marina office around 5:30. Then head to one of the many restaurants in the Marina around 6:30 or 7.  One of the nights' dinner's will be at the Mexican restaurant San Miguels. While there , we normally meet on the beach or the Beach Club for lunch Saturday. Then we depart for Skidaway Island on Sunday.  If you want to visit Hilton Head but not put up with the traffic, this is a great way to go. It's quite a scenic trip up, past the ship channel, passing Thunderbolt, Daufuskie Island and the marshes.
For transportation planning purposes, we request members RSVP as soon as possible.  Please send your RSVP to Piper Hawes at piperhawes@cox.net  with the following information:  If you have a boat and plan to take it,  please let us know how many passengers you can take and which marina you plan to depart from here on Skidaway; what time you expect to depart; and, whether you are staying 1 or 2 nights.  As skippers, you will be responsible to make slip arrangements directly with the Shelter Cover Marina – tell them you are with the SIBC – as SIBC members you will not be charged for power. The marina office # is 843-842-6997.  If you don't have a boat , please let us know how many is in your party that will require boat transportation to Hilton Head and how many nights you intend to stay. Unless you inform us otherwise, we will be assuming that everyone will be staying the 2 nights.
 Please RSVP and send the requested information to Piper Hawes at piperhawes@cox.net before March 29th.  This will to allow us enough time to be sure everyone has transportation. For hotels, please make your own reservations with the Days Inn.  Bill Stallings and Piper will be coordinating the cruise but all RSVP and transport information needs to be sent to Piper at piperhawes@cox.net.  The club looks forward to another fantastic trip this year!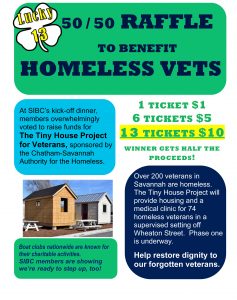 We have kicked off our 50/50 raffle to benefit the Tiny House charityRaffles will be held at each SIBC event this year. Tickets are 1 for $1; 6 for $5; or "Lucky" 13 for $10. Exact change is appreciated.
TIME TO RENEW YOUR MEMBERSHIP FOR 2019
The Social committee has put together some new and fun events for this year, like "It's Five O'Clock Somewhere" cocktail party, a sunset cruise and a Sunrise Breakfast. We will be featuring a 50/50 raffle at each event (beginning in February) with proceeds going to a local organization – one we hope you will help us choose from one of the suggested (they will be featured at the event) or one that you may have in mind.
The 2019 Membership dues can be paid by Paypal or credit card (below) or by sending (mail or tube) a check made to "SIBC" to Susie Fusco at 3 Brooks Lane Savannah, GA 31411.
RECENT EVENTS
BOAT CLUB KICKS OFF 2019

Close to 90 SIBC members started the new year in style with our annual kick-off dinner and new member sign-up, held Jan. 17 in the Plantation Ballroom. The festive and informative kick-off event featured a delicious three-course dinner, an update on planned events, and the transferring of the captain's hat to in-coming commodore Paulette Hamilton.
Members also voted on which charitable organization the club will support through its fundraising efforts. The final tally clearly showed our overwhelming support for The Tiny House Project for Veterans, sponsored by the Chatham-Savannah Authority for the Homeless, which received more than half the votes. Our donations to this sorely needed project off Wheaton Street will help restore dignity to our forgotten veterans. Boat clubs across the country are known for their charitable activities. SIBC is ready to step up, too!
Tall Tales Feb 24
The "Tall Tales" Potluck Dinner, was held at the Skidaway Island State Park's Group Shelter Building. We enjoyed friendship around the fireplace as Lee Carroll, our well travelled skipper, espoused a few tall tales from his voyage from Manila to Hong Kong. There was no charge for this potluck dinner and BYOB event.
Sock Burning Mar 7
The  club held our annual "burning of the socks" event  at Landings Harbor. We brought our old worn out cotton socks to be burned that symbolized the beginning of the boating season where we shed our winter clothes and welcome the coming of spring! This event was BYOB with chili (meat and vegetarian) and cornbread compliments of The Marshes of Skidaway Island. Our guest

speaker was Ms. Cindy Kelley, the Executive Director of the Chatham Savannah Authority For The Homeless.  Members were requested to bring a package of new white cotton socks for donation or a suggested cash contribution of $10 to aid in this worthy cause supporting the Savannah community.
    OCTOBER SPOOKTACULAR
The Skidaway Island Boating Club (SIBC) celebrated the traditional end of the boating season with a "Spooktacular Year-end Bash"  which was held on Thursday, October 18th. The Year-end Bash was a monstrous success, with Spooktacular decorations, devilishly good food, and a frightfully good time enjoyed by all. Ghosts fluttering in the breeze welcomed guests in the entranceway, Barnes Catering served up fantastic food, and the music kept everyone in the mood! Many embraced the spirit of the evening, attending in costume. Judges awarded prizes for some very unique categories, which were won by a biker chick, a Pope, and a 1950s sock-hopper! Three cheers for all of our contestants!
Many thanks to Susie Fusco and her crew for putting this event together. The event marks the traditional end of the boating season, even though boating is enjoyed year-round here on Skidaway.
Keep an eye out for announcements on SIBC social events in future newsletters as you enjoy the upcoming holidays.
OTHER RECENT SIBC EVENTS
On September 11th, the Carefree Boat Club hosted a cruise to A-J's for lunch. Sixteen SIBC members participated; it was a picture perfect day to enjoy the hour long cruise.  A big thank you to the Carefree Boat Club for their generosity!
Also in September, A group of women from the SIBC, known as the Sea Sisters (a faction of the Carefree Boat Club) took a short holiday in St. Augustine, FL. St. Augustine, founded in 1565, is the oldest city in the US. The Sea Sisters took advantage of one of the benefits Carefree Boat Club offers – reciprocity with other Carefree locations. They cruised the intercostal waterway on a 22′ pontoon boat named General Relativity.
—————————————————–
Questions about the club and events?
Not an SIBC member?  Why not JOIN NOW!

 Fill out the APPLICATION and pay your dues on the same page!