---
FELLOW SKIPPERS; 2018 LOW COUNTRY HOOK OCEAN RACE –  AUGUST 17-18 – SAVE THE DATE 

We love to meet and do anything we can think of in sight of, near to, or on the water! Owning a boat is not a requirement. Everyone who loves the water and our beautiful Skidaway waterfront is welcomed! 
We have social events every month.
On Thursday, April 19, Skidaway Island Boating Club will hold its first dock party of the year!
The warm weather has returned, the spring birds are back, and the waterfront beckons! Get ready to share some dockside food and friendship.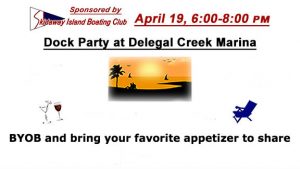 The boat club social will run from 6 to 8 p.m. at Delegal Marina. BYOB along with your favorite appetizer to share, and remember to pack the bug spray! The dock party is free to SIBC members and their guests.
Please RSVP to Susie at – siboatingclub@gmail.com
Not an SIBC member?  Why not JOIN NOW!

 Fill out the APPLICATION and pay your dues on the same page!
---
On April 27-29 (note date change). We will be enjoying an overnight cruise to Hilton Head.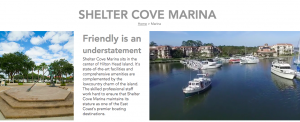 We had a great time at Shelter Cove Harbour and Marina last year and we will return for another fun outing.
I know it's early to commit, but the sooner we get your reservations, both for skippers and passengers, the easier it is for us to plan.
The marina where we are docking has lots of shops and about 9 restaurants. It also has a French bakery! The marina also has bikes and kayaks for rent. There also is a shuttle service from the marina to the beach and beach club. Umbrellas and chairs are available on the beach.
Skippers – Please make your own reservations at Shelter Cove Marina, advising the marina staff that you are part of the SIBC group. The marina phone is 843-842-7001
Everyone – The Days Inn is about 2 blocks from the marina and the members that stayed there last year were very happy with the facilities. In addition to the RSVP, see below,  you will also need to make your own reservations at the Days Inn. With the SIBC discount, the rate is $89. It is normally $159 a night.  The Days Inn phone number is 843-842-4800
Last year, we had 11 boats and 36 total members attending this function. It really was a lot of fun.
Please RSVP to Piper at – mailto:piperhawes@cox.net> 
using the form emailed to members in March.