Come to the "Love Boat" Year End Bash!


We have had a fabulous year and on October 27th we will congratulate ourselves with a wonderful party.  Because SIBC members love the water and all things associated with our waterfront, the Love Boat theme seems a natural! We deserve a giant celebration for this successful year.
Northerners typically hold their end-of-season parties in December. Here on Skidaway Island the season never ends! Our "Year End" Bash is timed (in October) to make certain as many members as possible are on-island and available to  cruise on over to the Skidaway Island State Park!
SIBC Loves Boating and the members will love the menu! See below. Look for the cruise Directors pictured above. The Love Boat mermaids are featured too – see the menu!
Due to our growth, we moved the event to a larger venue – the fireplace room at the Skidaway Island State Park.  That is an easy drive  down the road from our homes on-island. (This is the same place we hold Tall Seafaring Tales Around the Fire in February).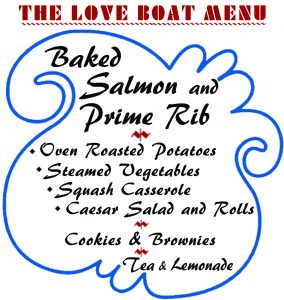 ---
Renew or Join SIBC
 Use the PayPal button below!
$75.00 Best deal on Skidaway Island!
Join SIBC now!
Click: APPLICATION tab.
There is also a PayPal button at Hook Page
Become a member of SIBC using
this Paypal button!
siboatingclub@gmail.com  
Website: http://skidawayIslandboatingclub.org/
Contacts: Directors and Officers