We love to meet and do anything we can think of in sight of, near to, or on the water! Owning a boat is not a requirement. Everyone who loves the water and our beautiful Skidaway waterfront is welcomed! 
We have social events every month.
On March 15th, the SIBC will host our annual "Burning of the Socks" event.  We will ceremonially burn our old socks to celebrate the start of spring: "release your toes from their winter clothes".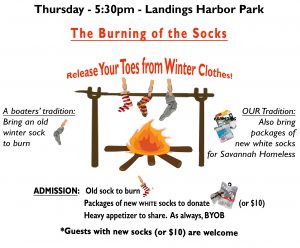 This is your last chance for a bowl of chili…until next year.
Admission is Admission is a pack of white socks for Savannah homeless, an old pair to burn and a heavy appetizer to share.
Please RSVP to siboatingclub@gmail.com
Not an SIBC member?  Why not JOIN NOW!

 Fill out the APPLICATION and pay your dues on the same page!