Skidaway Island Boating Club was started in early 2015 when a few people came together to create a community group that "promotes boating and the use of the waterfront of Skidaway Island". Stated more casually, we love to meet and do anything we can think of in sight of, near to, or on the water! Today, SIBC is approaching 100 family memberships!
SIBC welcomes sail and power boats from both harbors, kayakers, canoers, and (many) people without a boat! Everyone who loves the water and the waterfront is welcomed. Owning a boat is not a requirement for membership in Skidaway Island Boating Club!
Our shore activities include dockside picnics at both marinas along with low country boils, oyster roasts and boat tours. "Tall Sea-faring Tales by the Fire, the Burning of the Socks and a Year End Bash are a few of our annual events. Offshore activities include boat trips to restaurants, beaches and overnights 'on the hook'.
In 2016, SIBC hosted the first annual Low Country Hook Ocean Race along with the Yacht Club of Hilton Head Island. Our first race drew a record number of participants as did the post-race celebration! The Low Country Hook Ocean Race of 2016 was the largest sailing event in Savannah!
In 2017 The Landings Rhodes 19 Fleet 49 joins forces with SIBC under the leadership of SIBC member Fleet Captain Mark Winters. The Rhodes 19 Fleet continues to exist as a separate entity in terms of dues and expenses.
In addition to social events, SIBC is committed to providing members with a means of increasing their boating knowledge through classes sponsored by The United States Power Squadron and through Carefree Boat Club of the Landings.
Many of us moved from cold hard northern climates where boating was limited to too few months of activity every year. Here on Skidaway Island, our climate and facilities allow us to enjoy boating and waterfront activities year-round. Membership in Skidaway Island Boating Club is the perfect way to maximize your enjoyment of our coastal resources!
Hop aboard! Fill out the APPLICATION, pay your DUES, and join the fun!
Visit EVENT PHOTOS to see all our activities!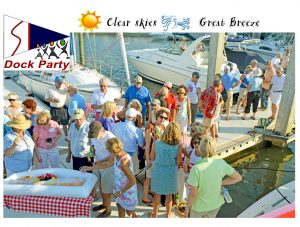 Also be sure to sample  our newsletter, SKIDAWAY SOUNDINGS and meet our 2017  OFFICERS AND DIRECTORS
Contact siboatingclub@gmail.com for more information.
BYLAWS