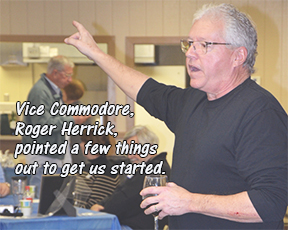 This was an evening of food, friends and Tall Seafaring Tales!
Our Commodore, Lee Carroll,  shared sail racing stories from his time in the Orient and Sam Durham, longtime Savannah native,  kept the crowd laughing with tales of growing up around Skidaway Island. He even shared from his trove of fishing lore!
Pre-dinner mingling…
No one provisions better than our own members!
Tall Tales and seconds –
Don't forget  DESSERTS!
Amy Collings created the decorations, led the  setup and was the last one out the door! A special thanks to Amy Collings, Paulette Hamilton, Piper Hawes, and Jane Master for photos.