---
Download a PDF version of this document.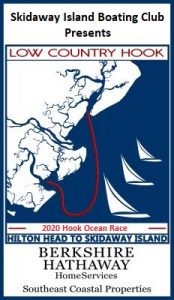 LOW COUNTRY HOOK OCEAN RACE
21-22 August 2020
NOTICE OF RACE
The organizing authority of the Hook Ocean Race is the Skidaway Island Boating Club (SIBC) and the Yacht Club of Hilton Head Island (YCHHI)
RULES
1.1 The race will be governed by the rules as defined in The Racing Rules of Sailing (RRS)
ELIGIBILITY AND ENTRY
2.1 The race is open to all non-planing monohull sailboats having an overall length of at least 24 feet and not longer than 50 feet.
2.2 Eligible boats may enter by completing the registration form available together with the required fee by 7 August 2019 at:
https://www.regattanetwork.com/event/20203 
2.3 Late entries may be accepted by the race committee but will not be eligible for early registration discount.
2.4 There will be separate classes for spinnaker, non-spinnaker and cruising (roller furling main and fixed blade propeller, or as determined by the race committee).
OTHER RULES AND REQUIREMENTS
3.1 All boats shall carry an operating VHF radio.
3.2 All boats shall be sailed by at least two persons.
3.3 At all times, boats shall monitor and keep clear of commercial traffic.
3.4 The US Sailing Safety Equipment Requirements for category Nearshore are suggested.
FEES
4.1 The early registration entry fee is $80 per boat.
4.2 Late registration fee of $15 is applied for entries received after 17 July, 2020.
4.3 Registrations are non-refundable after 15 August 2020.
4.4 Dockage on August 21st and 22nd, meals, beverages and other personal costs are not included in the entry fee.
4.5 An awards dinner will at Landings Harbor Marina on Saturday, 22 August 2020. Dinner reservations may be made and paid for at the SIBC web site: https://skidawayislandboatingclub.org/Low Country Hook Ocean Race 2020
All dinners must be paid for by August 14th. The SIBC registration site will also include an option to purchase commemorative, long sleeve, t-shirts which will be available at the dinner. Purchasing can be done via PayPal or a mail-in form. Mail in purchases must be received before August 14th to facilitate catering and shirt procurement.
SCHEDULE
5.1 Starting times are approximate and will be finalized in the Sailing Instructions.
5.2 Date Time Description
08/21 (Friday)
Competitors arrive Harbour Town Yacht Basin
6:00PM Cash bar at the Quarterdeck at Harbour Town
7:00PM Skippers meeting at the covered Pavilion on the dock at Harbour Town
 08/24 (Saturday)
9:55AM Warning signal for first class
5:00PM Time limit expires
6:00PM Social hour before dinner (BYOB)
7:00PM Awards and catered dinner at Landings Harbor Marina- One meal is included with boat registration. Live Music performed at the awards dinner.
08/25 (Sunday)
10:00am Transient boats must depart Landings Harbor Marina
SAILING INSTRUCTIONS
6.1 Sailing Instructions will be available July 31, 2020 and at the skippers meeting August 21,  2020.
VENUE AND COURSE
7.1 The race area will include the Calibogue Sound, Atlantic Ocean, Wassaw Sound, and the Wilmington River
7.2 The race course will be described in the Sailing Instructions which will be available July 31, 2019. 7.3 The start will be near G3 south of Hilton Head Island with the finish at Landings Harbor Marina.
7.4 All government navigation buoys in Wassaw Sound and the Wilmington River must be honored on their required side.
SCORING AND PRIZES
8.1 The race will consist of one race from near Hilton Head Island to Landings Harbor Marina on Skidaway Island.
8.2 Awards for each class will be given to first, second and third places during the awards dinner at Landings Harbor. There will also be an award for the first to cross the finish line.
8.3 PHRF ratings for boats without a valid or previous PHRF certificate will be assigned by the race committee. Time allowances will be calculated based on time on time scoring.
DOCKAGE
9.1 Dockage at Landings Harbor Marina is limited. Boats requiring dockage will be assigned space based on the order of receipt of completed registration form and payment of entry fee. A form for Dockage at Harbour Town will be provided.
DISCLAIMER OF LIABILITY
10.1 Competitors participate in the race entirely at their own risk. See RRS 4, Decision to Race. The organizing authority will not accept any liability for material damage or personal injury or death sustained in conjunction with or prior to, during, or after the race.
INSURANCE
11.1 Each participating boat shall be insured with valid third-party liability insurance sufficient to cover liability for loss, damage, personal injury or death.
CANCELLATION OF RACE
12.1 Safety of Boats and Competitors is a top priority. The Race Committee and PRO will assess the weather before starting the race and will determine delays, course changes, postponement, and cancellation
 FURTHER INFORMATION
Skidaway Island Boating Club – https://skidawayislandboatingclub.org/
Yacht Club of Hilton Head Island – https://yachtclubhh.org/
Doug Powelson, dpwlsn@gmail.com, (912) 665-5485
Lee Carroll, lcar794082@aol.com,  (912) 598-5294
Brian Burtnik, burtnikb@gmail.com. (404) 579-9836 Landings Harbor Dockage
Amar Patel, amar584@gmail.com, (912) 308-1319 Harbour Town Dockage
Jim Landis, jim@ninetysix.net, (843) 301-1621
Hap Todd, haptodd@gmail.com, (704) 500-6898