Winter, 2016
Rhodes 19 Update: Welcoming a Rhodes Scholar
The Rhodes 19 fleet welcomed a new Rhodes 19, Scholar, just before Christmas. This increased the sailboat fleet to nine boats.
Scholar was transported by Peter Kovats from Chicago to The Landings. When Scholar departed from Chicago, the temperature was a frigid 12 degrees, but upon arriving at Landings Harbor Marina, the temperature was in the 60s.
On Sunday, December 18th, Scholar was sailed for the first time on the Wilmington River by Paul Reddick, Todd Williams, and Peter Kovats. This weekly Rhodes 19 race was held in sunny 70 degree weather to the delight of the crews on the six boats competing that day. Scholar won the day easily. All the sailors in the fleet are excited about this new addition and look forward to enjoying leisurely recreational sailing and the exhilaration of weekly races all year round aboard our newest boat.
Rhodes Members Sail in the Leukemia Cup 2016
"Team TAP" Goes "Team TAPA"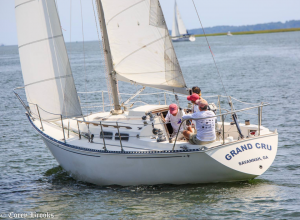 Once again we have a report from SIBC's favorite "Team TAP"! In September, Team TAP participated in the Leukemia Cup and Wassaw Cup (sponsored by Savannah Yacht Club) this time aboard Todd's sailboat, Grand Cru (C&C 33').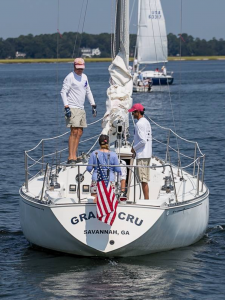 SIBC members Todd Williams, Amar Patel and Paul Reddick were joined on Todd's sailboat by Angharad Chester-Jones. Angharad was one of our most effective media representatives for the Hook Ocean Race last August. She was brought on board by Amar Patel and participated in crewing Grand Cru to 2nd place in the Leukemia Cup and a 1st place in the Wausau Cup!
(Thanks to Corey Brooks for the photos!)
Rhodes Boats Also Sail in Leukemia Cup
Congratulations also, to Marty Vernick, Captain of the Rhodes 19 Fleet! Once again The Landings Rhodes boats participated in the Leukemia Cup/Wassaw Cup. Three boats (including SIBC members too) were on the water and The Landings Rhodes Fleet once again placed on the sea and with contributions. Go Rhodes 19-ers! (Thanks Corey Brooks for the photos!)
Check out the historical video from 2008 at Utube video 2008