August, 2017 – News
Team TAP Sails Again!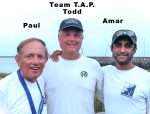 For the 3rd year, Team T.A.P., (Todd Williams, Amar Patel, and Paul Reddick), represented Fleet 49 at the R19 Nationals, this time in Marblehead, MA.

"Okay, here we go again with the latest TAP adventure to the Rhodes 19 Nationals, this year in Marblehead, Massachusetts.  Marblehead is the kind of place where sailors go after they die – a sailor's paradise."
…so starts the racing portion of Team TAP's Blog.
Check it out: R19 Nationals:
Pre-Race, Racing, Wrap-up,and Pictures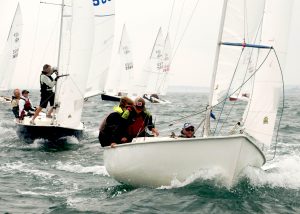 July, 2017 – News
In the summer, many of our sailing club members are out of town on vacation or seeking cooler climates to the north. Those who remain enjoy wonderful sailing conditions. The afternoon sea breezes have been reliable this summer with afternoon thunderstorms coming in after races have been completed. A few of our members enjoy taking the occasional recreational sail during the summer on weekday afternoons. Sailing on the sea breeze presents the best remedy to summer heat.
Don't just stand on the shore watching, signup for a regatta or an afternoon on the water and join the fun. Now you can try out the experience right from your sofa: go to Sail Rhodes at our website under the Rhodes 19, Fleet 49 tab.
Sailing in the Mackinac Race –
Recently, our member Todd Williams signed on as a crew member aboard Night Train, a Thomas 35, in the Mackinac Cup from Chicago to Mackinac Island. They finished in just under 2 days, 18 hours, coming in 5th of 35. The 109th Mackinac Cup racers experienced some of the worst weather of recent memory.  At the end of the first day, 50 knot winds pushed sailors to their limits with a boat capsizing, several sailors being rescued by the Coast Guard! A third of the fleet retired during the race.
Leukemia Cup, Sailing for a Good Cause –
On September 9th, Savannah Yacht Club hosts the local Leukemia Cup. This is a national campaign to raise funds to find a cure for leukemia, lymphoma, Hodgkin's disease and myeloma and to improve the quality of life of patients and their families.
Rhodes 19 Fleet 49 entered three boats last year, and hopes to enter even more boats this year. In addition, SIBC members entered big boats last year in the Leukemia Cup and the Wassaw Cup. This opportunity allows all sailors in SIBC to participate either through Rhodes 19 Fleet 49 or in a big boat. Sailors should start gathering their crews now and thinking about raising funds. Remember all funds raised are applied toward your final results in the regatta, so the more money a crew raises then the better their chance of winning! In 2016, the crew of a Rhodes 19 came in 2nd overall due to the amount of money raised for the charity.