Pontoon Boat Trip and tour of Ossabaw Island North End
June 11, 2022 @ 10:00 am

-

3:00 pm

$55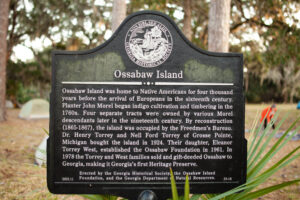 This is a day trip in which SIBC members will be transported to Ossabaw on a Pontoon boat and given a guided tour of Native American Tabby buildings, a discussion on Ossabaw Island Foundation's current Projects, learn about the Island Donkeys and hike the Trail Walk before returning to Delegal Marina. We will eat our bag picnic lunches on the island at picnic tables provided. Leave from Delegal Marina Fuel Dock at 9:30 am on June 11th.
The Ossabaw Island Foundation tour of the North End is a walking day on the island. It includes a required 45-minute interpretive tour about the natural and human history of Ossabaw Island, followed by time on your own to explore the island by foot, or relax on the porch of our North End buildings.
There is no on-island transportation for day trips. Here are the distances we will be covering:
Ossabaw Dock to the Boarding House/Club House:  about 1/3 mile
Walking tour distance:  about 1/3 mile.
Ossabaw dock to the Torrey West House:  1 mile.
Length of trip. You should plan for a full day, and be sure to bring your own lunches and refillable water bottles
 Facilities on Ossabaw Island
…The Club House will be your base camp for the day. The Club House has two downstairs restrooms (depending on the building) for use by groups, as well as potable water for refilling water bottles. The Club …
… 21st century rest rooms on the island. There is no restaurant or food service. There is no wifi on Ossabaw Island. Mobile phone service is available but varies by service provider. What to bring to Ossabaw:
Individual Lunch or snack
Filled and refillable water bottle (or other non-alcoholic beverage). Drinking water is available on Ossabaw Island to refill your water bottle.
Carrots or apples for the donkeys. (optional)
Insect repellent.
Sunscreen.
Good Walking Shoes.
Sun hat or ball cap
Sunglasses
Camera
Windbreaker for the pontoon boat if you are prone to getting cold
Cash of Credit card for purchase of Ossabaw Island merchandise
What NOT to bring on day trips:
Alcoholic beverages
Pets
Firearms
Illegal drugs
What to wear: 
Casual outdoor clothing
Flat, closed toed shoes recommended.
If it is rainy, wear rain gear.
Hats are recommended in the summer.
A note on "found" materials: 
Man-made items uncovered on Ossabaw Island are considered artifacts and are the property of the state of Georgia. Found objects may not be moved from their in-place location, nor removed from the island. This includes shells in the roadways or on shell middens. Please feel free to take photographs of any items you find, and try to make a note of where you find them, for possible future reference.
Donkeys on Ossabaw: 
A friendly herd of seven (7) free-range donkeys lives on Ossabaw Island. While there is no guarantee that you will see the donkeys, they do sometimes hang around the Club House. They love to eat carrots and apples brought to them by island visitors. You are welcomed to bring a few carrots or apples in case the donkeys drop in for a snack.