The Skidaway Island Boating Club (SIBC) together with the Yacht Club of Hilton Head Island held the Third Annual Low County Hook Ocean Race on Saturday, August 18.
The competition was fierce and so was Mother Nature during third annual Low County Hook Ocean Race, a five-hour sailing competition held August 18 off the Georgia coast.
One of the region's premier sailing events, this year's race drew 23 competitors who encountered some forceful winds during the challenging race from Hilton Head Island, SC to Landings Harbor Marina on Skidaway Island, GA.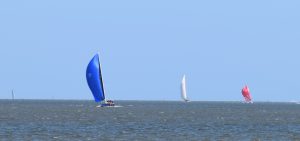 Trophies were awarded in three categories:  spinnaker (the large, colorful, three-corned sails that billow off the bow to increase speed) and non-spinnaker A and B (depending on boat size and speed potential.)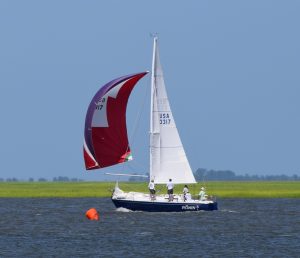 In the spinnaker category, Mike Foster placed first aboard Ronin, with a winning time of four hours and thirty-nine minutes.
Gebel Sesse placed second aboard High Visibility, and Mark Lamas took third aboard Rukus.
In the non-spinnaker A category, Randy Brooks won first place aboard Bliss, Todd Williams took second with his Grand Cru and Mike Roe placed third aboard Roeboat.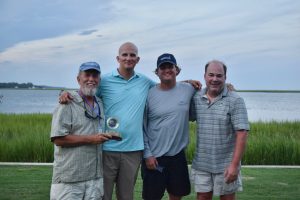 In the non-spinnaker B category, Steve Horton came in first aboard Zingara in just over five hours and 30 minutes. Steve and his team celebrate their victory (right).
Leo Peolquin placed second with Merlin, and Larry Sprague was third aboard HMS Beagle.
"There was great competition out there," said Foster, of Savannah, who noted he had not entered the Hook race in prior years, but promised, "I will be back!"
The race was organized by Skidaway Island Boating Club (SIBC) in partnership with the Yacht Club of Hilton Head (YCHHI).  Berkshire Hathaway HomeServices, Southeast Coastal Properties returned as the title sponsor of the 30-mile race.
SIBC race committee co-chair Dave Angell presented the awards and thanked the captains, crew, US Sailing race officials, Landings harbor staff, sponsors and volunteers who helped make the event possible.
"We're so pleased with the response to our efforts to revitalize a part of this region's sailing traditions, and at the same time, bring attention to the great coastal resources and the waterfront activities that we enjoy here year-round," said SIBC Commodore Roger Herrick.
The sailors encountered persistent winds that took them further east into the Atlantic, and outgoing tides later in the day, but most embraced the challenge.
"It was the champagne of ocean races. It was perfect," said Todd Williams who, along with his crew, enjoyed the wildlife as well as the sailing conditions, spotting sea turtles and diving dolphins.
"It was a great day. Beautiful weather, and very good competition. Lots of fast boats," added Paul Reddick, who competed in the spinnaker class aboard Blue J.  The race concluded at Landings Harbor Marina with a barbeque dinner, live music, and nearly 200 family, friends and supporters.