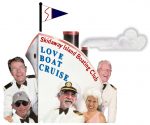 Because SIBC members love the water and all things associated with our waterfront, the Love Boat theme seems a natural! We deserve a giant celebration for this successful year.
Northerners typically hold their end-of-season parties in December. Here on Skidaway Island the season never ends! Our "Year End" Bash is timed (in October) to make certain as many members as possible are on-island and available to  cruise on over to the Skidaway Island State Park!
SIBC Loves Boating and the members will love the menu! See below.