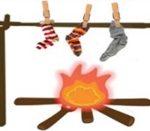 The Burning of the Socks, May 5, 2016
SIBC joined  marinas, clubs and boaters all over the country to celebrate the onset of the new boating season with  a Burning of the Socks celebration. Northerners tend to time their bonfires to match the spring equinox. Here in the Coastal Empire, we enjoy boating year round! However, that doesn't stop us from setting a ceremonial fire to celebrate "Releasing our Toes from their Winter Clothes!".
The start of the tradition is credited to Bob Turner – in an Annapolis, Md boat yard. According to boating lore, Mr. Turner spent winters "OPB", or working on "other peoples' boats". By the end of the winter, Captain Turner had a collection of boatyard debris, including old socks, dried up varnish, fiberglass repair leftovers and … other stuff.
The legend goes on that one spring day,  Bob headed out the pier with an armful of assorted paint-trays, rollers, and other supplies. The lovely spring day inspired him to shed his socks on his way out the dock, (we all know that boat shoes wear better bare-footed!).  He was moved to douse his socks with lighter fluid and set them on fire in celebration of his toes release! This was the first sock flambé, and the celebration of releasing your toes from their winter clothes!
Our celebration was on a beautiful and warm May evening. The breeze was enough to direct the smoke away from participants and here on the Coastal Empire, it was warm enough to enjoy the evening without a coat!
An enormous collection of socks were delivered to Chatham Savannah Authority for the Homeless. The director said they will be delivered directly into the hands of people who desperately need them.
Flags Flew, Members Welcomed Members and Delicious Food was Served (again!). The party was ON!
Socks were collected – Socks were burned!