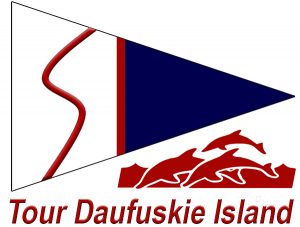 Skidaway Island Boating Club's first ever cruising event, to
Daufuskie Island, was a resounding success! Twelve members road comfortably aboard The Dark Side, Commodore Lee Carroll's boat. SIBC members always enjoy eating together and socializing and the lunch at Daufuskie Crab Co was no exception. The afternoon was perfect for golf cart rides around the island. Stops included a rum co, a winery, shopping (of course!) as well as historical sites.
Although two boats started the journey, engine trouble forced the second boat, (Capt George LaPlenta aboard It's Time),  had  to return to Landings Harbor. One couple transferred boats mid-journey to continue the trip! Those who missed the tour are eager to sign up for the next trip.
The Skidaway Island Boating Club is an inclusive social club that promotes boating and the use of the waterfront of Skidaway Island, open to all residents of The Landings. Although some members own sail boats, power boats, kayaks, fishing boats and canoes, owning a boat is not a requirement.  Our education programs are designed to help members increase, use and share their boating knowledge. The trip to Daufuskie Island was the first on the water cruise where members shared resources to travel together to another waterfront destination.
It's Time made it partway before engine trouble forced captain and crew to turn back.