Our Successful Excursion!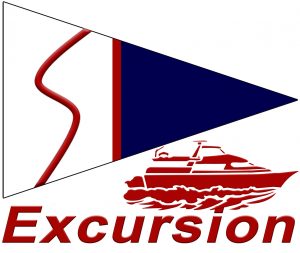 Our July 14th excursion was a delicious success! Along the way we encountered rain, wind, lightening, and a change of destination….
Our two boats took shelter at Savannah Yacht Club to wait out thunderstorms. Lo, right across the dock was SIBC member Rich Moore, aboard his beautiful sailboat Sail La Vie (permanently docked at SYC). Several of us braved the rain and took tours! Gayle Ridgway brought snacks, so 11 of us plus Rich partied aboard The Dark Side, (Lee & Georgie Carroll's boat), until the storms passed.
When the clouds parted, we cast off and headed to The Wyld Restaurant,  a closer destination than the original AJ's Restaurant on Tybee Island, and also on the water (between Isle of Hope and Whitmarsh Island).
Seventeen of us converged at Wyld's Retaurant (the old Bonna Bella's): three aboard Carl & Gayle Ridgway's powerboat, eight on Lee & Georgie Carroll's poweboat, The Dark Side, and six came by car, piloted by George LaPlenta.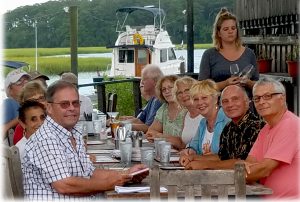 The temperatures had cooled and the remaining dridrizzle and rain was no problem under tents on the deck, water-side. The food was delicious! Pounds of shrimp disappeared, along with crab cakes, salads and, of course, beverages.

Skidaway Island Boating Club proved to be flexible in terms of destination and safe in terms of dealing with the weather. Seventeen of us enjoyed a delicious dinner, got to know several of our newest members and agreed a return trip is in order, soonest!
Wyld's is an easy trip by boat or by car. Be sure to try it!
On the dock getting ready to go —
Dark skies held rain, thunder, lightening and wind! The sunshade came down on the Dark Side andboth boats took shelter at Savannah Yacht  Club. On the way over, men were topside on the Flying Bridge and ladies were in the cockpit. During the layover, Gayle served up snacks to tide us over.  The Ridgway boat followed in Dark Side's wake….
Delicious food was followed by an easy trip home: the ladies topside on the Flying Bridge and the gents in the cockpit.