Take a test sail right from your sofa and then take a test sail on the water! Fleet Sailing and Racing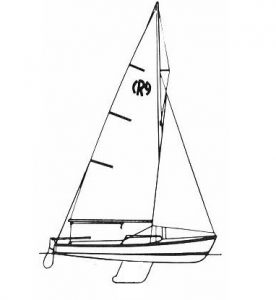 The Rhodes 19 fleet is made up of 19 foot "Rhodes" (manufacturer) sailboats which have a fixed keel of 3′3" and a displacement of 1,325 lbs, making them ideal for our waterways. Normally Rhodes 19's are sailed by a crew of three, but can be handled by two experienced sailors. As many as four sailors can enjoy a leisurely sail on a Rhodes 19.  As an affiliate of the National Rhodes 19 Class Association, we are known as "Fleet 49 of Savannah, Georgia".
In the last several years, race crews from Fleet 49 have participated and placed in the national Rhodes 19 Association competitions held annually in major cities around the country. Find articles and pictures at Nationals 2017 and Nationals 2016.
Sailing Adventures at The Landings
Sailing allows you to experience an activity that never grows old. With such easy access to the water, it is hard to resist the urge to get out on a boat and enjoy the beautiful weather. One economical and fun way to do that is by sailing with the Rhodes 19 Fleet.
Whether you enjoy a recreational cruise on the waters around our lovely island or the exhilaration of racing, sailing will keep you young at heart and mind as well as physically fit! Participation with the Rhodes Fleet offers all this and an opportunity to meet and interact with fellow sailors. There are races alternating Saturday and Sundays throughout the year from Landings Harbor Marina.
In addition to weekly racing throughout the year, members may use the boats for recreational sailing. Note that the boats are available for use ONLY by Rhodes 19 members and their guests. They are not available for rent or lease. This (paraphrased) anonymous ancient proverb says it all: The gods do not subtract from one's allotted time the hours spent sailing".
Members of the Rhodes group pay nominal dues to help to maintain the fleet of boats which are owned by The Landings Association (TLA). The Skidaway Island Boating Club provides leadership and support to the Rhodes sailors. 
Whether your sailing experience is extensive or non-existent, you will be welcomed aboard one of our boats. We team all sailors with an experienced skipper until you are checked out and ready to take the helm yourself. Race crews consist of either two or three people, although the boat can comfortably hold four people. We sail on the Wilmington River and enjoy reliable breezes and calm seas pretty much year-round. It's a ideal location for day sailors.
Take a no-obligation "sea trial" to see if you'd like to join. For further information, contact the Fleet Captain at 2winters80@gmail.com or SIBC at siboatingclub@gmail.com. Don't forget to check out our informative and entertaining introductory video at the Fleet Race Page.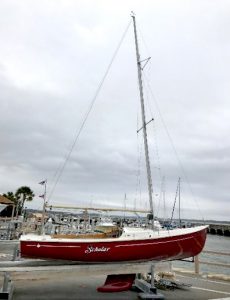 If you are interested in sailing, whether you have experience or not, contact Fleet Captain Mark Winters at 2winters80@gmail.com or write to siboatingclub@gmail.com to find out more information about the Sailing Club and sailing the waters surrounding our beautiful island.
Join SIBC now! You can fill out a Membership Application at Application.