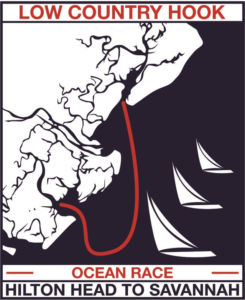 There is no better place for boating than the Low Country of South Carolina and Georgia, and it has been a popular spot for sailing for generations. The Low Country Hook Ocean Race regatta offers sailors a unique experience with a course that resembles a large hook, hence the name. The Hook Race is the only open ocean water sailing event in the Low Country. While many area boat clubs host annual regattas in inland waterways, the Hook offers the opportunity to compete in open ocean waters for several hours which historically was a large part of sailboat racing.
This year, SIBC hosted a Dockside bar event for members, sailors and spectators. With the last to finish at 3:45 PM, the Dockside bar was bustling with sailors telling the tales of the day. One sailor likened the time in the ocean to being in a cement mixer. Many thanks to Dianne & Paul Bloom who served as bartenders for the event.
This year there were 21 boats at the starting line. With a strong favorable breeze and tide, the first to cross the finish line at Landings Harbor was High Visibility, a Savannah Yacht Club J/105, finishing with a corrected time of 3 hrs 33 minutes. This was the fastest Hook Race and a wild ride for competitors that flew spinnakers south past Tybee Island. A Landings Harbor  J/24, ROGUE, finished with the second best corrected tine of 3 hrs 34 min. This also placed her at the top of the J/24 class. The non-spinnaker class winner was Shazam, as 28′ Beneteau from the Chatham Sailing Club. The cruising class winner was Merlin, a 30′ Pearson from the Chatham Sailing Club. The Landings Sailing Club's J/24, Bonnie Blue, captured a 3rd place in the J/24 class.
Photos of some of  the finishers can be seen with the link below.