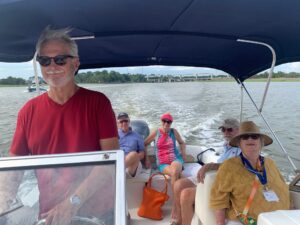 The SIBC boat trip to Daufuskie Island, SC and tour by golf cart Wednesday, May 17th was a great adventure for the 25 SIBC members who joined. The weather was uncertain up to the morning of the event and there was a 50/50 chance it would be canceled. However, mother nature smiled on us and the day was beautiful, the winds were light and the seas were flat.
The trip to Daufuskie Island in our four boats was very enjoyable and scenic. After a 2-hour transit through Thunderbolt, across the South and North fork of the Savannah River, through Fields Cut and Ramshorn Creek, we docked at the Freeport Marina on a strong ebbing tide. There was plenty of dock space for our four boats since there were only two or three other boats docked. Once we off loaded, everyone made their way to pick up their golf cart and we crossed the island to the Island Shack Café. Once there, we had an "extended lunch" (service was terribly slow). Following lunch, we proceeded to tour Daufuskie Island.
Our first stop was the light house/museum and vineyard. On the way to the lighthouse museum, some of us stopped at the Old Baptist Church which is still holding services in the original church building, a museum in its own right. The lighthouse and museum was a very informative stop and covered much of the early history of the lighthouse and the island. From the lighthouse, it was a short drive to the beach.
The beach was gorgeous. Broad and wide and empty, as if we were the only inhabitants of a deserted desert island. From the beach, there was a clear view of Hilton Head Island and Tybee Island. After taking photos of the beach and our group, we were off to the Daufuskie Island Rum Distillery to taste their wares.
The distillery was in a very picturesque location with a lily pond and a pouch with rocking chairs to enjoy the view. After tasting several of their rums, I preferred their spiced rum (although I am not a rum drinker). Following our time at the Daufuskie Island Rum Distillery we had to head back to Freeport Marina for our 2-hour trip back to Landings Harbor Marina. We left on a strong flood tide but the weather was still great, no thunder or lighting anywhere. Our entire trip was dry…not a drop of rain. Some of the boats even saw dolphins on our way home and the dolphins put on quit a show for us, jumping out of the water, coming up to the boat to say "Hi" and just playing with one and other. I would say that the trip was a marvelous success and a great time was had by all. It was truly a unique experience.
Here is a link to the photo album of the trip: