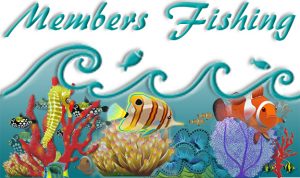 Send your pictures, where and how you caught the fish, and your recipe to siboatingclub@gmail.com
Fishing at Freeport Grand Bahamas
Paulette Hamilton traveled to Freeport Grand Bahamas for a week of fishing with Capt Black. They trolled the waters about 2 miles off shore on his boat, Sea Vee. Below is the monster barracuda Paulette hooked just in front of an approaching storm – and on the last day of fishing. What a grand finale!

Paulette initiates another Generation!
July 17th was Alessandra's and Sebastian's first fishing trip. Laurie and Paulette took them aboard Reel Therapy, anchored around Wassaw. They fished for almost 5 hours and caught a hammerhead shark (!) along with some croakers and 6 or 7 whitings. Ale caught the biggest, coming in at 13 inches!

It was a was a fun day … and another wonderful memory.
Paulette Hamilton and the Catfish

Whiskers! Euw!
Paulette shared her recipe and said the Catfishh was delicious! If you want more information, write siboatingclub@gmail.com
Recipe: Southern Fried Catfish

Paulette Hamilton and the Sheepshead
I caught the sheepshead while fishing off the dock at Delegal Marina…..it truly was exciting for me since it is such a difficult fish to catch.  It weighed in around 4 pounds, 17 inches. My good buddy, Randy Hill, helped with reeling it in, he also cleaned it for me.  I used Hoppin' John's recipe, except I didn't chill the lemon butter, I spread it on the filets.  It is a nice, light white meat, subtle flavor. 
Recipe:  Sheepshead Recipe
Links:
On the Water/Other
Members Afloat