We all love pictures, so share your adventures! Send pictures and stories to siboatingclub@gmail.com. Snap some pictures of yourself and others so we can all play vicariously!
 SIBC Member "Sticks the Landing"!  
It was a wild and woolly day at Landings Harbor marina as well during Tropical Storm Hermine! Jake, Rick and I went to the marina to check on Masterpeace (first time) about 7 :45 AM. It was 2 hrs till high tide and there was already less than 2' of the harbor break wall showing!
               At first glance, I thought Paul Reddick's J-100 was taking on water! But no, it was heeling over that far! All the boats were heeling over in 55+ mph wind gusts – and the lighter the boat, the more it heeled over!
Jake and Rick decided to put another dock line on Paul's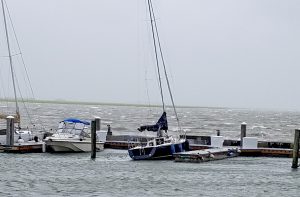 Did she need it? Who knows? The guys didn't take a chance. Paul wouldn't be coming down what with the tree on top of and in front of his garage!
There was no way Rick + Jacob were going to pull the boat closer to the dock. So Jake got a dock line off Masterpeace and Rick did the honors — a leap of faith (gazelle-like) to the boat. yes, he stuck the landing! And a darn good thing too as the next stop would have been the deep 'brown' sea!
The pictures don't do justice to the whole event, with waves breaking over the breakwall onto the dock and onto the guys… and Jacob wearing my coat!
You can listen to the wind howling on this short video! Best to keep your eyes closed as I'm a terrible videographer! Saturday Afternoon:
We ran into Cam and Mandy Harvey pirating battery powered fans off their boat to help fight the heat at home without electric.
Marina workers diligently prepared for the storm. All the Rhodes 19 boats were down off the top rack of dry storage and on the ground in wash racks. Even so, 3 boats managed to blow out of their cradles and were severely to terminally damaged.
April 30th Aboard Blue Lagoon
Cam and Mandy Harvey were having fun sailing on the Wilmington River April 30th. They looked beautiful both coming and going!

The Landings Day at Delegal,  April 16th
SIBC introduced Saturday's attendees to our club by handing out Membership Applications and offering attendees the opportunity to purchase goodies from our SHIP'S STORE. Visitors purchased shirts, burgees and hats. Head to SHIP'S STORE now before it's too late!
Paulette was caught fishing off the dock Saturday, April 16th! She had 2 blue crabs in the bucket by the end of the day. They didn't look very happy about being on the evening's menu, but she said there was no chance they were going back in the water! She was fishing with shrimp and little crabs as bait. Send pictures and stories about your fishing adventures!
March 30th,
Sailing on the Wilmington River
Reenie and Roger Herrick entertained Reenie's sister aboard Jake and Jane Master's sailboat, Masterpeace. It was so windy, Jake reefed the main twice! Paul Reddick was also aboard as crew. His shirt included pictures of his personal boat racing in (and winning) Chatham Sailing Club.
Travelogues:
Overnight at Hilton Head
Star-Eyed Stella
Sail La Vie

 See also:
Links:
On the Water
Members Fishing
Travel Tips