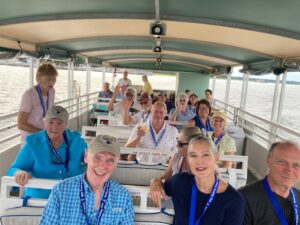 26 SIBC members were treated to a Pontoon Boat Sunset Dolphin/Dinner Cruise on Wednesday evening July 13th. Thunderstorms were clearing and we left LHM on a flood tide headed to an 9.7 ft high tide at 9:33 pm as a result of a full moon. Conditions were close to perfect, light winds, flat seas and no thunderstorms in sight.
We headed out of LHM to the Wilmington River towards Wassaw Island North Beach. Since conditions were so ideal, we began to serve dinner almost immediately.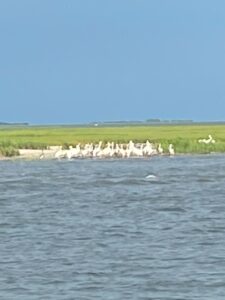 On the way, we boated close to Cabbage Island and came across a flock of rare white pelicans which were a delight for everyone to see.
We then crossed Wilmington River and passed Sister Island and entered Romerly Marsh Creek. The tide was so high, water was everywhere and the marsh grass was no more than an inch or two above the waterline. The white egret's we came across in flight were beautiful and provided a spectacular backdrop against the green marsh grass for our cruise.
Our course wound around the marshes and we came close to Wassaw Island North Beach. Here we came across a whole pod of Dolphins and we followed the pod for some time. They provided a spectacular show for us with some coming very close to the Pontoon Boat to the delight of all on board.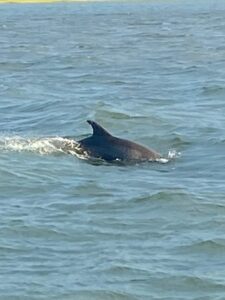 A lone sailboat joined us as we followed the pod of dolphins and this provide a beautiful backdrop for photos of the dolphins. Following our encounter with the dolphins we headed back to Landings Harbor Marina into a setting sun.
This was truly a memorable cruise. Every member had a great time and all were sad to see it come to a close.
Click here for a link to all the photos: Pontoon Boat Sunset Dolphin/Dinner Cruise