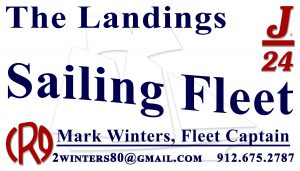 Learn about this incredible asset within Skidaway Island Boating Club and The Landings!
With the addition of two J24 sailboats, the "Rhodes 19 Sailing Program" officially becomes "The Landings Sailing Fleet", Mark Winters, Fleet Captain.
The fleet sailors are excited about the possibilities. Besides providing more variety to the fleet, members can sail in area PRHF regattas such as the St Patrick's Day Regatta, as well as hosting our one design races featuring J24's.
Look for an announcement with the date and time for  the Renaming Ceremony sometime in November. This ceremony will include seeking blessings from Poseidon, ruler of seas and oceans, as well as the rulers of the four winds: Boreas, Zephyrus, Eurus, and Notus. Watch for the announcement!
Fleet captain, Mark Winters, along with Jake Master and Paul Reddick, traveled to Lake Lanier a few weeks ago to evaluate these boats and negotiate with the owner. Their negotiations resulted in purchasing two J24's for approximately the same cost of the last Rhodes 19! Shari Haldeman provided guidance during the acquisition.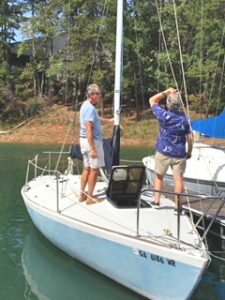 Jake and Mark did all the work to haul the boats out of Lake Lanier and prepare them for their trip from the fresh water lake to the salty waters of Skidaway Island. Rory Jose, andh Mike Bousquet from Landings Harbor assisted by towing these boats back to our marina.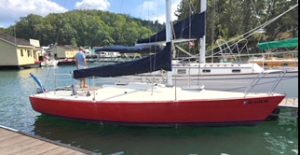 First Sail